Labels
ePrint is a label expert! Relax while we take care of all your label printing needs.
Your labels are crucial to the accuracy of your company and product identity. ePrint produces a very wide variety of labels for many types of applications. From UPC bar code, to bumper stickers, wall clings, and bottle labels to storefront labels and price labels, we can help you in whatever labeling area you need.
Paper Labels
Laser labels for numbering and shipping
Mailing Labels
Thermal Labels
Wine, beer and jar labels
Soap Labels
Specialty Material (brown kraft paper, embossed, foil, etc.)
UPC and Barcode labels
Personalized Water Bottle Labels
Security Labels
Novelty Shapes (circles, Ovals and Seals)
Integrated Labels
Vinyl Labels
Vinyl Decals
Bumper Stickers
Parking Permits for schools, towns or businesses
Floor Decals
Window Decals
Weather Resistant Labels
Static Cling
Removable Decals
Reflective Labels
Chrome Polyester Decals
Packaging and UPC Labels
If you're in need of packaging and UPC labels, we can help you get on the right track when it comes to product inventory and control by providing the right labels.
Product Labels
Almost any product from bottles and jars to soap and more, we can do it. Boost product appearance with custom designed labels made exclusively for your brand.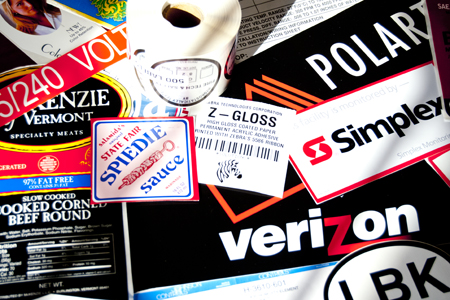 Promotional Stickers and Decals
If you need bumper stickers, window decals, marketing labels and more, we can help you choose the right style, substrate and design for your needs.
Get noticed with vehicle magnets and wraps
We do a variety of car magnets and large format window decals. Magnets are a great way to continue your marketing and networking while on the move. We can help you design your own car magnet with your information that is sure to be a shout out wherever you go.
Looking for something a little bigger?
Try something new and daring with vehicle wraps. Cover your car, truck or van in a custom, personal look designed specifically for your business. Have an idea for a wrap but not sure if it would work? Talk to us and we can help you design and find the perfect wrap for your vehicle.
Our Past Clients
LaCarreta Mexican Restaurant, Lazy Dog Beer Company, Thermo Fisher, Wal Mart, Stanley Tools, As Seen On TV, Cabin Fever Whiskey, Velcro USA, Verizon, Foundation Armor, Molecular Bio Products, American Tourister and more.
Put us to the test!
Give us a call and talk to us about the critical labeling requirements you have for your business. We would be very happy to help you get the just the right label products for your specific needs.