Brochures & Flyers
Brochures add credibility and authority to your company's image and your brand. They not only display the value of your products and services, they distinguish the quality of your communications. We print premium quality color brochures on a wide variety of paper stocks and at just about any size. Choose from trifolds, bi-folds, booklets, rack cards, and more.
If you have an idea for something unique or different, we can help you with that too. Send us your design or let our in-house design department help you create a great brochure for your business.
Flyers for Events and Promotions
Printed flyers help communicate events and promotions better than just about anything else. We can print all sorts of different flyers on papers ranging from very thin to thick poster board. We print standard letter size flyers as well as custom sized and larger format flyers for attention-getting appeal.
Full Color Brochures & Flyers
We print full color professional brochures and flyers on many different sizes and colors that are sure to get your business noticed.
Brochure & Flyer Options
Choose from a variety of different brochure options. From trifolds, bifolds, rack cards and more we can help you pick the best brochure for your business.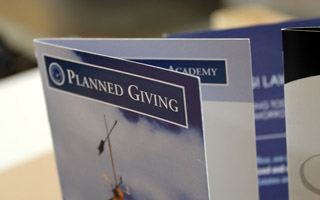 Custom Brochure & Flyer Design
Design your own or let us design one for you. You can be sure you will receive a professional quality product with a design you will love.
When you MUST have it…
Events and promotions have specific timelines with deadlines for production. Look no further than ePrint when you need fast turnaround to meet a tight deadline. We can upload your files directly to our presses and print the flyers you need, when you need them. As needed, we do all the finishing touches like hole-punching, scoring and folding in our in-house bindery department.
Premium Full Color Quality
We print full color, high end corporate collateral materials for professional marketers.
Choose from numerous options. From books to trifolds, bifolds, line cards or intricate die cuts, we'll help you create a beautiful brochure to better differentiate your business.
Great design is the key. Bring us your own or let us design something for you. We'll make sure that you'll receive a high quality product that you and your team will be proud of!
A high quality brochure is so important! It includes your most important information so it should be clean, attractive and easy to read. We can help you fully integrate your brochures and flyers with your other marketing materials such as pocket folders, packaging and posters. This assures a professionally consistent and uniformed marketing presentation.
Whether you need a single brochure or a complete marketing system, contact ePrint today. You'll find out why marketing professionals and business owners appreciate the veteran sales and marketing expertise we put behind all of our printing services.
Call us today at 603-594-0009 or contact us here.